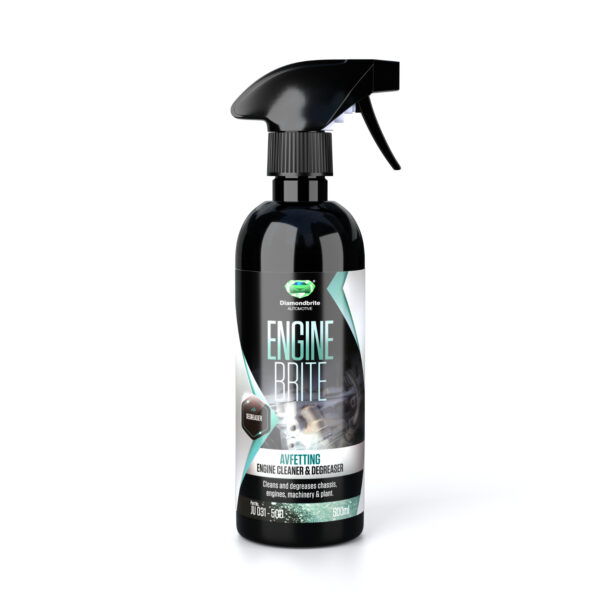 Engine Brite – Engine Cleaner & Degreaser 500ml
£8.99
Diamondbrite Engine Brite – Engine Cleaner & Degreaser is the best engine cleaner and engine degreaser for car engines, motorbike engines, machinery, and plant use. Keeping your engine clean and free from gunk, grease, and oil is good practice – it's the best way to spot potentially dangerous leaks or faults. For light or heavy soiling, Engine Brite is a powerful and easy-to-use engine degreaser.
Diamondbrite Engine Brite – Premier Engine Cleaner & Degreaser
🌟 Overview: Diamondbrite Engine Brite is your go-to solution for a meticulously clean and well-maintained engine, be it in a car, motorcycle, or any piece of machinery and plant equipment. A clean engine not only looks aesthetically pleasing but is also crucial for identifying any leaks or faults early, preventing dangerous and costly repairs. Engine Brite stands out as a highly effective and user-friendly degreaser, perfect for rejuvenating your engine to its pristine, factory-fresh look.
Special Formulation:
Engine Brite is designed to effectively eliminate stubborn oil, grease, dirt, and grime from all vehicle engines. It's versatile, being ideal for engine and engine bay preparation whether for sale, mechanical work, regular maintenance, or restoration tasks, requiring minimal effort for a complete clean. Safe on metals, plastics, and rubber, Engine Brite swiftly dissolves undesired residues, leaving surfaces looking impeccable.
Fast-Acting & Easy Rinse:
Once applied, Engine Brite swiftly penetrates and breaks down even the toughest dirt deposits, thanks to its innovative formulation containing advanced emulsifiers. The product can be easily rinsed away with water after use. It's exceptionally useful for accessing hard-to-reach spots within engine bays and is equally efficient for cleaning tools and machinery, making it a versatile addition to any workshop, garage, home, or building site.
Versatile Applications:
Whether it's about maintaining classic or modern car engines, garden hedge trimmers, boat motors, or generator units, Diamondbrite Engine Brite proves to be an indispensable asset for anyone seeking a fast, effective, and easy cleaning solution.
Developed by Experts:
Engine Brite is the result of meticulous research and development conducted at Diamondbrite's state-of-the-art facility in Loughborough, Leicestershire, ensuring a unique, high-performance formula, crafted by specialists in automotive care products.
Usage Directions:
Ensure the engine is cold before application.
Spray the product directly onto the surface.
Use a brush to agitate heavily soiled areas.
Rinse off with a hose, being cautious around sensitive areas like air intakes or electrical systems to avoid water ingress.
🌐 For more information and usage demonstrations, visit our YouTube channel.
Conclusion:
Diamondbrite Engine Brite – Engine Cleaner & Degreaser is a must-have for automotive enthusiasts and professionals alike. Its quick, effective cleaning action and versatile application make it an essential tool for maintaining and restoring the cleanliness and functionality of a variety of engines and machinery. Keep your engine bays and machines looking brand new and running smoothly with Diamondbrite Engine Brite!