SALE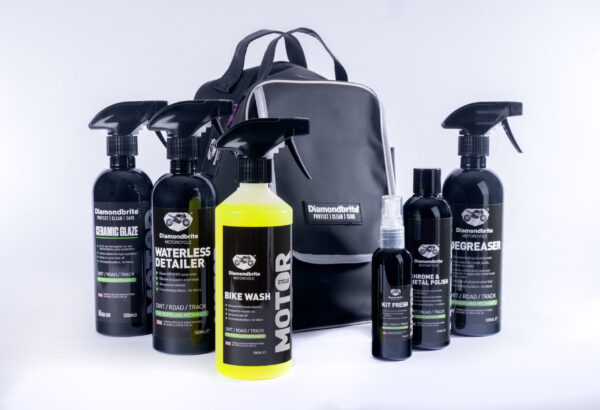 Motorcycle Ceramic Care Pack
This pack contains everything the biker needs to keep their bike in tip-top condition. Only a few available.
This pack contains everything the biker needs to keep his or her pride and joy in showroom condition with minimal effort. It contains a bottle of Diamondbrite Ceramic Glaze which has been developed using the latest nano-ceramic technology to produce a hydrophobic surface and create unparalleled levels of gloss with outstanding durability. Our unique formulation adds an additional layer of ceramic protection for the ultimate shine. Enhances the Diamondbrite Paint Protection if this has been applied to the bike.
Along with the Diamondbrite Ceramic glaze the pack also contains a Diamondbrite Bike Wash for use when the bike gets really dirty. It breaks down the dirt and muck prior to washing and does not affect the Diamondbrite surface. There is also a Waterless Detailer which will clean lightly soiled surfaces and will not scratch. Also included is a Chrome and Metal polish, a Degreaser and a Kit Fresh to keep those gloves and helmets smelling great.
All this contained in a smart 'Diamondbrite Heist' drawstring bag. Only a few available.