FREE SHIPPING  ON ORDERS OVER £20  (UK MAINLAND ONLY)

SOLD OUT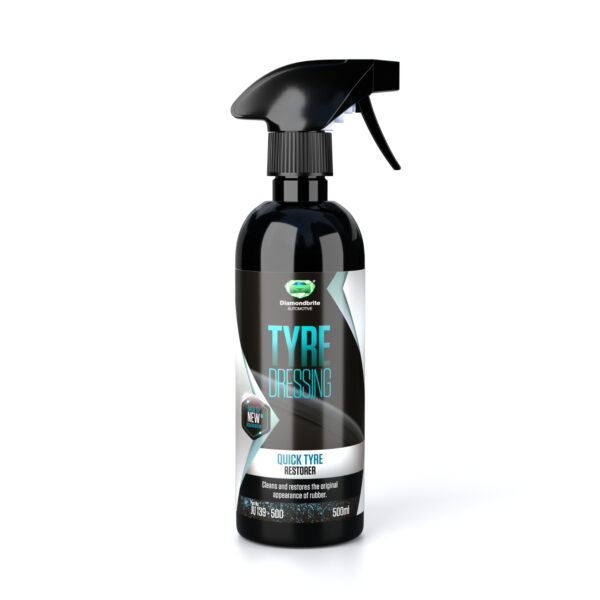 Tyre Dressing – Quick Tyre Restorer 500ml
Diamondbrite Tyre Dressing is a Quick Tyre Restorer that can be used on tyres and all rubber surfaces to return them to there original appearance. Dull or brown tyres can ruin the look of a car – Diamondbrite Tyre Dressing is the best tyre dressing for returning car tyres to their 'like new' jet black finish – the finishing touch to any clean car.
**Diamondbrite Tyre Dressing: Restore and Shine**
**Overview:**
– Diamondbrite's premium formula rejuvenates dull tyres to their pristine condition.
– Perfect for all rubber surfaces, including rubber door and window trims.
– An essential product for both professionals and home detailers seeking a flawless finish.
**Benefits:**
– **Combat Tyre Dullness:** Easily tackles tired, browned, or faded tyres, giving them a fresh, blackened look.
– **Effortless Application:** Unlike traditional tyre dressings, Diamondbrite's trigger spray is precise, quick, and requires no post-application buffing.
– **Innovative Formulation:** Crafted at Diamondbrite's 45,000 sq ft facility in Loughborough, Leicestershire.
– **Expertly Developed:** Created by specialist technicians skilled in high-performance car cleaning solutions.
**Easy Usage:**
1. **Preparation:** Wash and dry the car as usual.
2. **Application:** Spray Diamondbrite Tyre Dressing directly onto dry tyre sidewalls.
3. **Clean-Up:** Wipe off any overspray from surrounding areas, like alloy wheels, with a dry cloth.
4. **Instant Results:** See immediate enhancement, with a non-sling silicone formula ensuring no unwanted residue on bodywork.
**Additional Features:**
– Prevents tyre ageing and cracking.
– Keep your vehicle looking pristine.
**Directions for Use:**
1. Ensure tyre is dry.
2. Spray directly onto the tyre wall.
3. Wipe off excess with a dry cloth. No buffing needed.
For a deeper dive, visit our YouTube channel.