FREE SHIPPING  ON ORDERS OVER £20  (UK MAINLAND ONLY)
Double Victory and Points Bonanza for Laser Tools Racing with MB Motorsport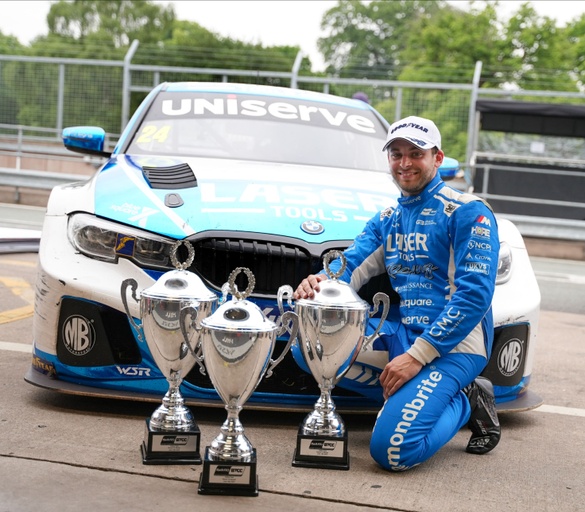 Laser Tools Racing with MB Motorsport enjoyed a near-perfect race day at Oulton Park as Jake Hill collected a double race victory, a second-placed finish and three fastest laps to take home a whopping 62 points. The weekend catapults Jake into third in the Drivers' Championship as he and the team head into the mid-season break full of optimism ahead of the second half of the season. Sunny skies and warm conditions greeted Jake Hill and his WSR-run BMW 330e M Sport as he lined up from the front row in the day's first race, behind championship leader Ash Sutton. A great start off the line gave Jake the lead of the race before the first corner. Jake then had to defend valiantly from his counterpart as his tyres came into temperature. As the laps ticked on, Jake managed to edge away at the front of the pack and managed the race excellently to claim his and Laser Tools Racing with MB Motorsport's first victory of the season.
One soon became two as Jake doubled up his victory tally just a couple of hours later. Another great start off the line secured the lead into the first corner and Jake held onto the lead of the race in the early exchanges. A safety car added some tension into the proceedings but again, the Laser Tools Racing man managed his restart expertly to increase the gap between himself and the leading pack. Crossing the line to take his second victory, marked the first time that Jake and the team had won two races across a single race weekend. Lining up in P7 for the reverse-grid race, Jake and the rest of the field were weighing up tyre decisions as rain seemed ready to fall imminently. A third strong start of the day, jumped Jake up the order and he further benefited from incidents in front to find himself up in P5 before the end of the first lap.
Two more decisive moves saw Jake make his way into the top three before another safety car restart added even more excitement to the affair. With the three BMWs of Morgan, Turkington and Hill now leading the field, the scene was set for an exciting climax to the race. As all three WSR stablemates raced superbly wheel-to-wheel, Jake managed to find a way past Morgan into P2. Jake then settled into his rhythm and at one stage looked set to make a charge for the lead but crossed the finish line in second-placed to cap off a remarkable weekend – his highest-scoring weekend as a BTCC driver. This weekend's results have seen Jake rocket up the championship order, now lying in third position, six points behind reigning champion Tom Ingram and twenty-six behind championship-leader Sutton.