FREE SHIPPING  ON ORDERS OVER £20  (UK MAINLAND ONLY)
Laser Tools Racing with MB Motorsport end the season with victory at Brands Hatch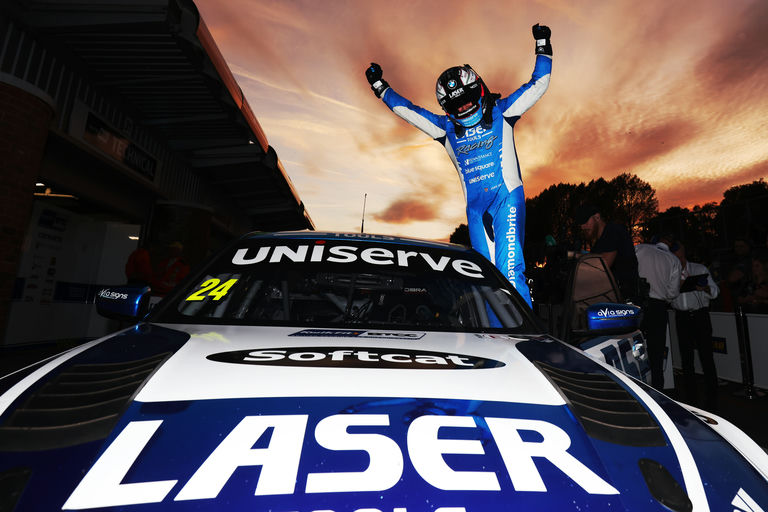 Laser Tools Racing with MB Motorsport and Jake Hill collected their sixth victory of the 2023 BTCC season in the final race of the day at Brands Hatch to close out the campaign third in the Drivers' Championship. Starting Saturday in fine form, Jake placed P2 on the timesheets in the opening free practice session of the day and followed that up with a 17th place finish in the second session as the team geared up for qualifying. In the qualifying session that followed, Jake would secure P8 in a closely contested session and all eyes were now focused on climbing the order on race day. Sunday beckoned with unusually warm weather – over 23 degrees – making the day more demanding on teams, drivers and especially tyres.
Jake made another slick getaway and worked his way up to 6th place, ahead of Turkington and Cammish. Pressuring Rowbottom mid race he charged alongside the Ford Focus, only to be edged out and passed by both Turkington and Cammish, but a late race error by Rowbottom saw him back past at Paddock Bend and finishing a solid P6. Race two would once again see Jake start well in the rear-wheel drive WSR run BMW 330e M Sport and he would look to challenge those around him as the race settled. Jake would again remain clear of any trouble and cross the line once more in P6 to add yet more points to his growing tally. 
The final race of the weekend would see the reverse grid draw and Jake would be drawn in P4 for the final race of the season. A blistering start saw Hill jink past Rowbottom's wheel spinning machine and Cook and charge into Paddock Bend up to Second and chasing after Pole Man, his team-mate Stephen Jelley. Soon after a Safety Car was called for an incident involving Moffat, and as the yellow safety car lights were shown it appeared that Cook slipped past whilst under safety car conditions. However at the restart it was Jelley, Cook and Hill – the leading pair putting on a tremendous show of passing and re passing until on lap six they ran almost side by side into Westfield Bend.
Seizing his chance with a beautifully timed move, Hill cut back to the inside, the cars running three abrest and in a brave and decisive move described by ITV's Tim Harvey as 'One of the moves of the season' charged by to take the lead as the trio braked for Sheene Curve. Despite another safety car, Hill edged away from Cook – setting fastest lap in the process – to cross the line 1.278 seconds clear and record his sixth BTCC victory of 2023. This was particularly special as it was his first victory in BTCC at Brands Hatch – his 12th career win – and made it 6 wins in 2023, double that of 2022, and with a further 6 podiums and 5 fastest laps made it a career-best season in terms of results, taking a hard-fought 3rd overall in the Championship