FREE SHIPPING  ON ORDERS OVER £20  (UK MAINLAND ONLY)
OULTON PARK NEXT UP FOR LASER TOOLS RACING WITH MB MOTORSPORT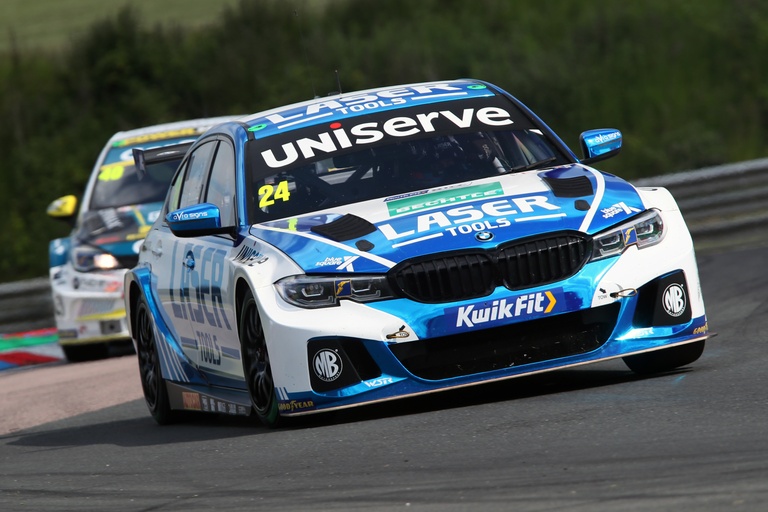 Laser Tools Racing with MB Motorsport will continue their BTCC campaign this week as they head to Oulton Park to contest round five of the 2023 Kwik Fit British Touring Car Championship. Dubbed the 'UK's most picturesque circuit', Oulton Park in Cheshire is built into the natural contours of the landscape, making it a favourite amongst the drivers and the fans who have been coming to the scenic circuit since the BTCC first raced on the 2.23-mile circuit in 1960. Laser Tools Racing with MB Motorsport and Jake Hill head to round five, which marks the halfway point in the 2023 season, off the back of a positive weekend at the ultra-fast Thruxton Circuit. Another top-five qualifying result from Jake Hill saw the Kent-based driver follow up on Sunday with a brace of 4th place finishes and another top-ten result in the final race of the day. These results mean that Jake now heads to Oulton Park this weekend currently occupying 4th in the Drivers' Championship with 130 points. 
Jake and MB Motorsport's previous trip to the circuit was one that left the team with a feeling of 'unfinished business' as Jake was taken out in qualifying, forcing him to start way down the order. Jake recovered brilliantly to score points in all three races and also took the fastest lap in the final race of the day, but this weekend presents them the opportunity to show their true pace at the Cheshire circuit.  Jake, in his WSR-run BMW 330e M Sport, will be looking to score big points this weekend and reignite his championship fight with six rounds and 18 races still left to contest.  The action on track will begin on Saturday with a pair of free practice sessions being followed by qualifying taking place later that day at 15:40 (BST). For this weekend, the qualifying shoot-out, which is available to watch live on Youtube, returns which will see the regular 30-minute qualifying session be followed by a 'Top 10 Showdown' to set the front five rows of the grid.
Being 4th in the standings, Jake's hybrid allows him 7 Secs (per lap) in qualifying and four laps of hybrid use through race one – with the results of races one and two setting the hybrid allowance for the following race. All three races take place on Sunday, with live coverage available on ITV1 (race one), and ITV 4 (races two and three) and online at ITVX. The races are scheduled for 12:17 (BST), 14:40, and 17:25 respectively. Live timing across the weekend is available here.