SALE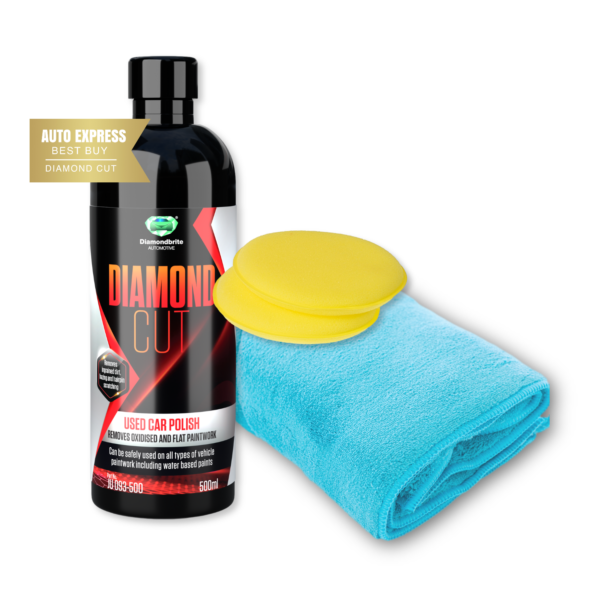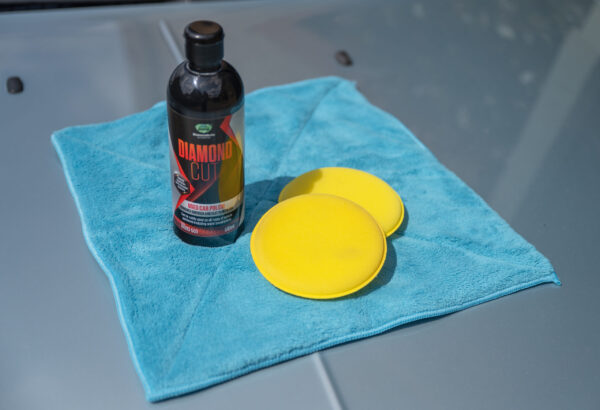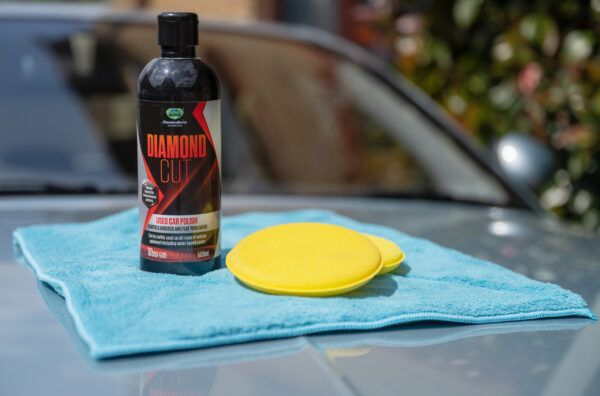 Diamond Cut & Buffing Buddy Pack
The Diamond Cut and Buffing Buddy Pack – Restore the Shine to Your Ride!
1 x Diamond Cut Polish
1 x Buffing Buddy Towel
2 x Applicator Pads
Introducing the Diamond Cut & Buffing Buddy Pack – Restore Your Ride's Shine!
The Diamond Cut & Buffing Buddy Pack caters to the automotive care industry, providing you with all the essentials to rejuvenate your cherished vehicle. This pack features the renowned Diamondbrite Diamond Cut used car polish, accompanied by a premium Buffing Buddy microfiber towel and two high-quality applicator pads. Get ready to transform your car's appearance and give it the attention it deserves!
Key Features:
Diamondbrite Diamond Cut: Formulated exclusively for used cars, this professional-grade polish eliminates swirl marks, light scratches, and imperfections. It revitalizes the paintwork, delivering a glossy finish and enhancing your vehicle's overall appearance.
Buffing Buddy Microfiber Towel: Engineered with advanced microfiber technology, this ultra-soft towel is the perfect complement to Diamondbrite Diamond Cut. Its plush fibers effectively absorb polish residue, leaving behind a streak-free, mirror-like shine on your car's surface.
Versatile Applicator Pads: The pack includes two high-quality applicator pads designed specifically for the application of Diamondbrite Diamond Cut. These pads ensure even distribution of the polish, enabling you to achieve optimal results effortlessly.
Benefits:
Restores the Showroom Shine: Diamondbrite Diamond Cut, a powerful polish, renews the appearance of your used car by eliminating surface imperfections, scratches, and oxidation. The result is a brilliant, showroom-quality finish that enhances your vehicle's overall appeal.
Long-lasting Protection: In addition to enhancing your car's appearance, this polish provides a protective layer against harmful UV rays, acid rain, and environmental contaminants. It safeguards the shine and extends the lifespan of your vehicle's paintwork.
Effortless Application: The included applicator pads and Buffing Buddy towel make the application process quick and hassle-free. The pads ensure precise and controlled application, while the microfiber towel gently buffs away any excess polish, revealing a flawless finish.
Versatile Use: Diamondbrite Diamond Cut is suitable for all types of automotive paint, including clear coats. Whether you own a classic car, a modern sedan, or a sleek sports car, this pack is a must-have for restoring and maintaining your vehicle's appearance.
Professional Quality: The Used Car Care Pack is meticulously designed to meet the highest standards of quality and performance. Each component is crafted to deliver exceptional results, making it an ideal choice for automotive enthusiasts and professionals alike.
Revive your used car's beauty with the Diamond Cut & Buffing Buddy Pack, which includes Diamondbrite Diamond Cut used car polish, a Buffing Buddy microfiber towel, and two applicator pads. Order now and restore your ride's shine, making it the envy of the road!