SALE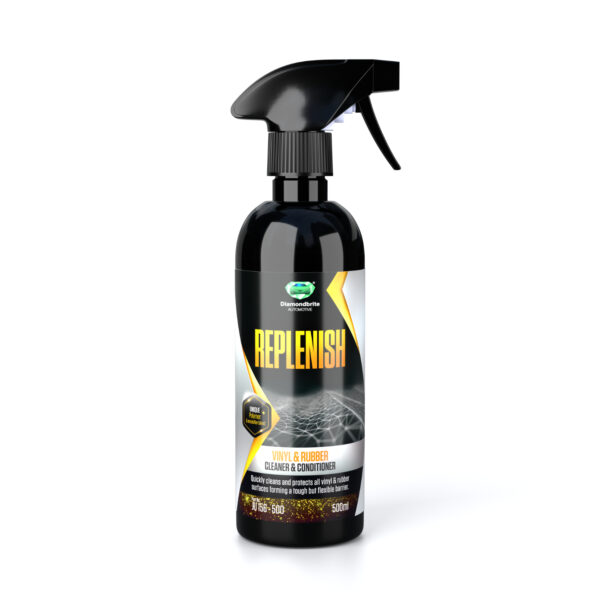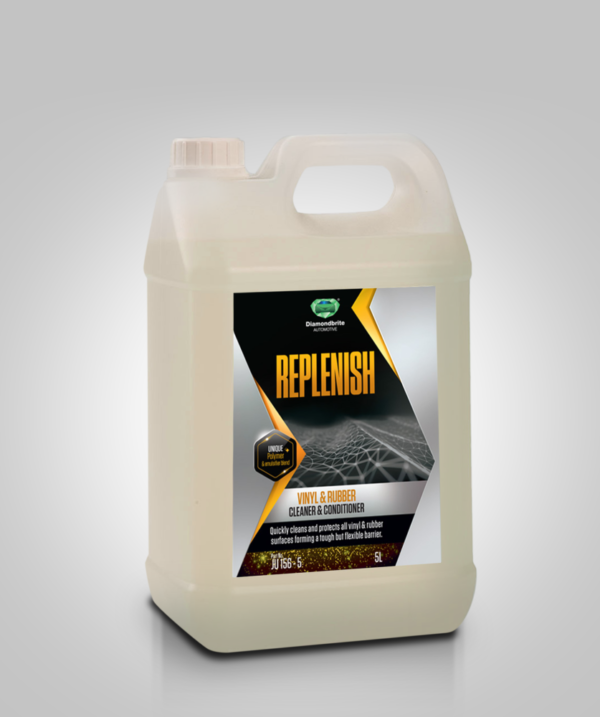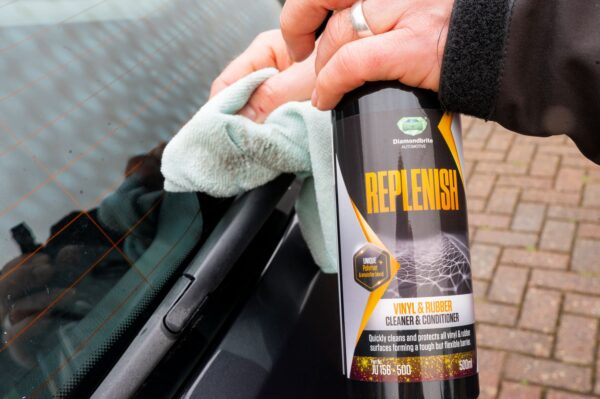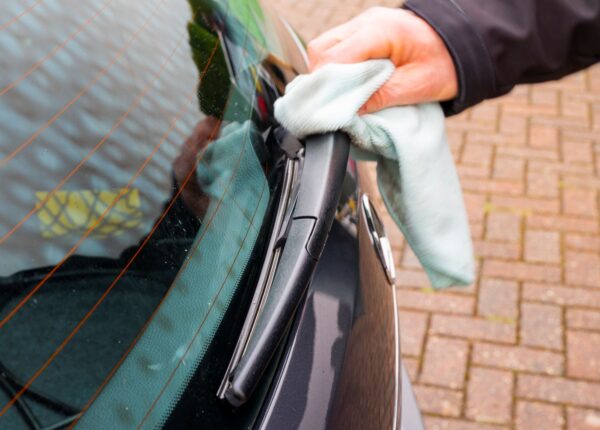 Replenish – Vinyl, Rubber Cleaner & Conditioner
£9.99 – £57.99
Diamondbrite Replenish – Vinyl and Rubber Cleaner and Conditioner cleans, protects and conditions all vinyl and rubber surfaces, such as car door trims, black plastic bumpers and tyre sidewalls. It is easy to use thanks to its trigger spray bottle application and can transform your car in minutes – wiping years from its general appearance.
Diamondbrite Replenish – Vinyl, Rubber Cleaner and Conditioner is one of the best car cleaning products to keep in your car care armoury. It quickly cleans and protects all vinyl and rubber surfaces, forming a tough but flexible barrier, returning treated areas to their original, 'factory fresh', look in minutes. Unlike other products of a similar nature, Diamondbrite Replenish is applied using a fast trigger spray applicator rather than via a brush, avoiding a messy and time consuming process.
A well-kept car care secret in the world of vehicles sales is that treating vinyl and rubber surfaces with a cleaner and conditioner is a highly effective method to restoring a vehicle's striking, original aesthetics. Furthermore, it is a fact that dirty or warn tyres can ruin the look of your car. Applying Diamondbrite Replenish to your car tyre sidewalls as part of your regular car cleaning routine keeps them looking new, adding to the general appearance of your car.
Likewise, tired or faded car trim can drastically age a car's appearance and, therefore, its marketability. Diamondbrite Replenish can fight the effects of weathering and the natural ageing of car components, it can be used on all interior or exterior vinyl and rubber trim including dashboards, vinyl bumpers and door trims to refresh their look and feel. It keeps rubber parts conditioned to ensure years of further service by preventing drying and cracking – maintaining the functionality of areas such as rubber door and window seals. This is particularly useful in icy winter weather when stuck window glass due to untreated rubber seals can prevent entry to your car.
Diamondbrite Replenish – Vinyl and Rubber Cleaner and Conditioner has been specially developed in the UK at Diamondbrite's dedicated 45,000 square foot research, testing and manufacturing facility in Loughborough in the Midlands of the UK. The product's unique formula uses specially blended silicone and emulsifiers to infiltrate the surface with its unique tough but flexible barrier, leaving surfaces with a fresh matt or gloss finish – whichever you prefer. In some ways, Replenish, is the unsung hero of the Diamondbrite car care range.
Diamondbrite Replenish is also available in a 5-litre size.
Directions for use:
For a gloss finish apply plenty of Diamondbrite Replenish and leave for five-minutes, remove any excess with a Diamondbrite Microfibre Cloth. For a matt finish apply to a cloth and wipe directly onto surface, wipe to dry. If overspray occurs at any time remove with a clean cloth.
Find out more on our YouTube channel.
| | |
| --- | --- |
| Weight | 0.5 kg |
| Size | 5 litres, 500ml |