FREE SHIPPING  ON ORDERS OVER £20  (UK MAINLAND ONLY)

SALE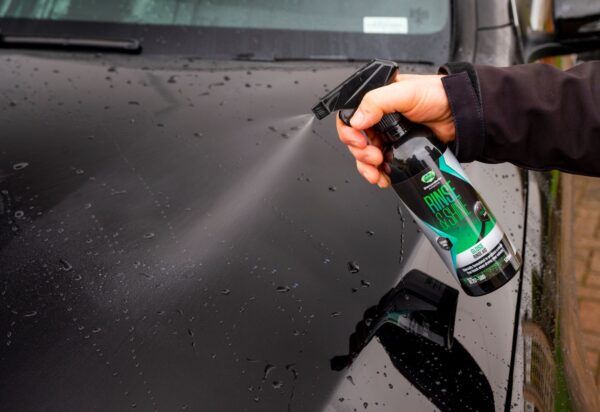 Rinse and Shine – Water dispersion spray
£6.49 – £19.99
Diamondbrite Rinse and Shine is an important car cleaning aid designed to assist the final stages of car washing – ensuring treated vehicles dry with a glossy, streak-free, finish. Following your usual car wash routine, Diamondbrite Rinse and Shine is sprayed onto a vehicle before drying as normal with a microfibre cloth or chamois. Rinse and Shine forms an invisible hydrophobic coating repelling water and hastening the drying process.
Diamondbrite Rinse and Shine: The Ultimate Car Care Essential
Elevate Your Car Washing Game
As every car enthusiast knows, achieving that pristine, glossy finish is an art. Enter Diamondbrite Rinse and Shine, a game-changer that significantly streamlines and enhances your car washing routine. With this innovative product, you're not just washing your car; you're giving it the VIP treatment.
Key Features
Hydrophobic Technology: Rinse and Shine is armed with a state-of-the-art hydrophobic coating that actively repels water. The result? Speedier drying times and reduced chances of water spots.
Glossy Finish: Say goodbye to unsightly streaks and water marks. This cationic rinse ensures a professional-grade, streak-free finish that mirrors a showroom shine.
Seasonal Versatility: Whether it's the rapid evaporation during summer months or water pooling in winter, Rinse and Shine combats both, ensuring a consistent, wet-look finish all year round.
Efficient Application: After your regular car wash, simply spray Rinse and Shine to activate its water-repellent magic. For optimum results, use with a Diamondbrite Microfibre Drying Towel, Synthetic Chamois, or Microfibre Cloth.
Crafted with Precision
Manufactured in the UK, Diamondbrite's expansive 45,000 sq. ft. facility in Loughborough, Leicestershire is a hub of innovation. Our team of expert laboratory technicians is dedicated to pioneering high-performance car care products. Rinse and Shine is the culmination of meticulous research and testing, ensuring you're armed with the very best.
Pro Tip: For those opting for the 5-litre variant of Diamondbrite Rinse and Shine, remember to dilute it at a 25-1 ratio before application.
Discover More: Dive deeper into our product range and get handy tips by visiting our YouTube Channel.
With Diamondbrite Rinse and Shine, give your car the shimmering finish it deserves! 🚗✨🌟
| | |
| --- | --- |
| Weight | 0.5 kg |
| Size | 5 litres, 500ml |