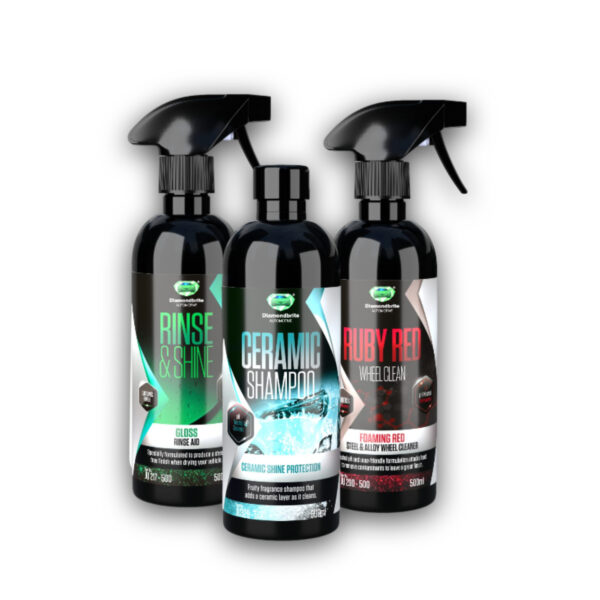 Diamondbrite Autumn Care Pack
£27.97
With autumn around the corner, it's the perfect time to ensure your vehicle is ready to face the elements. The Diamondbrite Autumn Car Care Pack offers a range of premium products designed to clean, protect, and shine your vehicle. So why wait? Take advantage of this limited-time offer and give your car the care it deserves!
Diamondbrite Autumn Car Care Pack
🍂 As the leaves begin to fall, prepare to give your vehicle the protection and shine it deserves with the Diamondbrite Autumn Car Care Pack! 🍂
✨ What's in the Pack? ✨ Our exclusive Autumn Car Care Pack is curated with essential products to keep your vehicle in pristine condition through the autumn months. Inside, you'll find:
Ruby Red Wheel Cleaner (500ml): A powerful cleaner designed to remove stubborn brake dust and dirt from your wheels, leaving them sparkling clean.
Ceramic Shampoo (500ml): Infuse your car's paintwork with a protective ceramic coating while washing, providing enhanced protection and a glossy finish.
Rinse and Shine Water Dispersing Spray (500ml): This ingenious spray aids the drying process, leaves a streak-free finish and adds an additional layer of protection to your vehicle.
🍁 Special Autumn Offer! 🍁 From 1st October to 30th November, get this all-in-one Car Care Pack at a 20% discounted price! It's the perfect opportunity to arm your vehicle against the unpredictable autumn weather and keep it looking its best.
Why Choose Diamondbrite Autumn Car Care Pack?
Comprehensive Care: Each product targets a specific area of your car, ensuring complete protection and enhanced appearance.
Premium Quality: Formulated and tested to meet the high standards of Diamondbrite, guaranteeing top-notch car care.
Great Value: Enjoy premium car care products at a great discounted price for a limited time.
How to Use
Using the Diamondbrite Autumn Car Care Pack is straightforward and hassle-free. Detailed instructions are provided on each product, ensuring optimal results every time you clean your car.
Follow us on YouTube! – https://www.youtube.com/@diamondbriteuk