SALE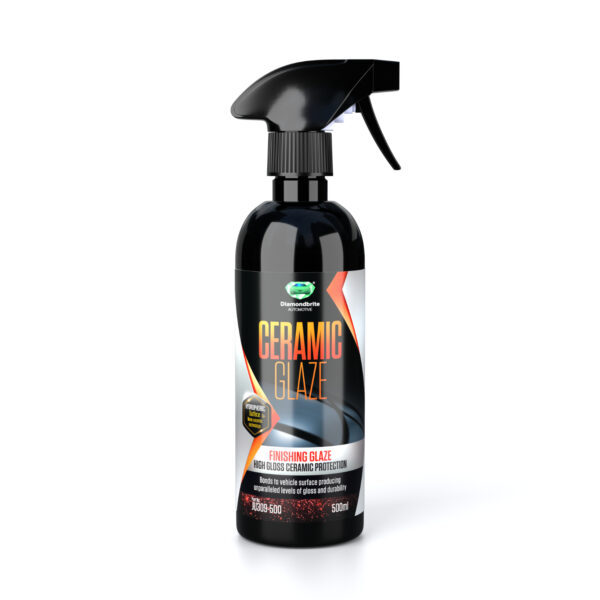 Ceramic Detailing Glaze
£9.99 – £53.99
Diamondbrite Ceramic Detailing Glaze has been developed using the latest nano-ceramic technology to produce a hydrophobic surface and create unparalleled levels of gloss with outstanding durability. Our unique formulation adds an additional layer of ceramic protection for the ultimate shine. Enhances the Diamondbrite Paint Protection.
Diamondbrite Ceramic Detailing Glaze: Unleash the Ultimate Protection and Shine
Introduction: Step into the world of Diamondbrite Ceramic Detailing Glaze, an advanced finishing product that offers unrivaled high gloss ceramic protection for your car. Harnessing cutting-edge nano-ceramic technology, this remarkable solution provides a multitude of benefits, including superior paint protection against contaminants, dirt, and minor scratches, while ensuring a lasting, deep, and glossy wet-look shine.
Experience the Benefits of Diamondbrite Ceramic Detailing Glaze:
High gloss ceramic protection:

Transform your car with a lustrous, high gloss finish that turns heads.
Revel in the brilliance of a showroom-worthy shine that enhances your vehicle's appearance.

Invisible hydrophobic layer:

Bid farewell to water and dirt worries as the innovative hydrophobic layer repels them effortlessly.
Enjoy the convenience of a surface that stays clean, as dirt and grime struggle to adhere to the treated areas.

Maintains a durable, deep, and glossy wet-look shine:

Preserve the allure of your car with a long-lasting, durable finish that withstands the test of time.
Bask in the captivating wet-look shine that exudes luxury and sophistication.

Unparalleled paint protection:

Safeguard your vehicle's paintwork against common contaminants that threaten its pristine appearance.
Shield your car from minor scratches that can tarnish its allure, ensuring a flawless finish for longer.

Versatility for professionals and DIY users:

Discover a product that caters to both detailing professionals and enthusiastic DIY users alike.
Harness professional-grade results without the need for specialized training or equipment.
Harness the Power of Ceramic Protection:
Hydrophobic Nature of Ceramic Detailing Glaze:

Benefit from its hydrophobic qualities, effectively repelling dirty water, grime, and harmful environmental particles.
Experience the convenience of an invisible barrier that prevents deposits from adhering to treated surfaces.

Importance of Protective Coatings for Modern Car Paint:

Recognize the significance of regular protective coating application, especially for water-based modern car paint.
Combat the vulnerability of such paints to scratches and natural aging, ensuring your car maintains its best appearance.

Unique Formula and Development:

Rest easy knowing that Diamondbrite Ceramic Detailing Glaze is the result of meticulous development by UK experts.
Benefit from the expertise of laboratory technicians specialized in crafting high-performance car cleaning products.

Compatibility and Application:

Embrace the versatility of this product, which works seamlessly as a standalone solution or in combination with Diamondbrite Paint Protection and other ceramic coatings.
Effortlessly apply the solution using the convenient trigger bottle, allowing for controlled and precise coverage.

Directions for Use:

Begin by thoroughly washing your car with either Diamondbrite Ceramic Shampoo or Xpress Wash and Wax.
Rinse the car with water and disperse water further by applying Diamondbrite Rinse and Shine.
Achieve a dry surface by chamois drying the car.
Apply Diamondbrite Ceramic to one panel at a time, then buff the panel with a clean Microfibre Cloth for a flawless finish.
Unlock the Brilliance with Diamondbrite Ceramic Detailing Glaze: Discover the transformative power of this exceptional solution, specially developed to protect and enhance your car. With regular washing using Diamondbrite Max Foam Shampoo and Diamondbrite Conserver as wash additives, the extraordinary ceramic protection can last up to three months. Visit our YouTube channel for further
| | |
| --- | --- |
| Weight | 0.5 kg |
| Size | 5 litres, 500 ml |
You may also like…
£

7.99 –

£

19.99