SOLD OUT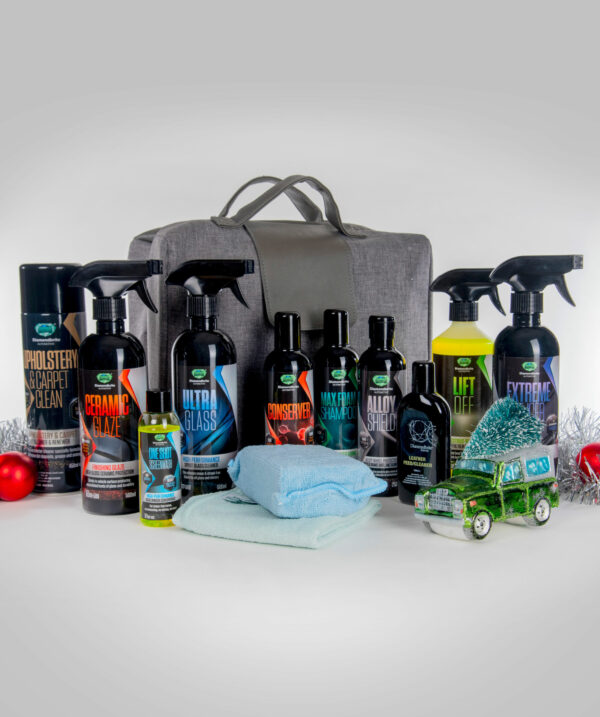 Diamondbrite® Christmas Pack
£75.00
We've put together a great Diamondbrite® Christmas Pack offering the best of our products. Our Christmas Pack offers everything you need to keep all of your vehicles looking their best this festive season.
Introducing the NEW Diamondbrite® Christmas Pack
Ultra Glass is the ultimate smear and streak-free finish for all glass and mirrors. Cleans glass and mirrors easily and effectively.
Find out more about this product on our YouTube channel.
Diamondbrite® shampoo is a high foaming, concentrated shampoo which is derived from vegetable oils.  It is therefore fully biodegradable. It removes all types of dirt from your vehicles paintwork and exterior surfaces such as chrome, rubber and plastic.
Find out more about this product on our YouTube channel.
Diamondbrite® Ceramic Detailing Glaze has been developed using the latest nano-ceramic technology to produce a hydrophobic surface and create unparalleled levels of gloss with outstanding durability. Our unique formulation adds an additional layer of ceramic protection for the ultimate shine. Enhances the Diamondbrite® Paint Protection.
Find out more about this product on our YouTube channel.
Screenwash De-Icer is an environmentally safe, alcohol based product that will remove ice and grime without affecting paintwork.
Citrus Blast Traffic Film Eliminator is one of the best car cleaning products to keep as part of your car washing kit. Lift Off is a fragrant multi-purpose cleaner and degreaser formulated to gently remove bird droppings, dirt, dead insects, oil, grease, brake dust, pollution and road grime from your car. This handy, easy to use, spray can be used for a multitude of typically tricky car cleaning jobs.
Is specially designed to give you newer looking carpets and upholstery. A high foaming cleaner that can be used on fabrics, carpet, vinyl, plastic, chrome, metal and glass. If used on windscreens it will remove insect deposits, grease and smears. Perfect for use on carpets, upholstery and soft furnishings.
Alloy Shield Protector – 250ml
Alloy Wheel Protector is the best follow-up to an alloy wheel cleaner for keeping wheels sparkling. Dirty car wheels are caused by the build-up of brake dust, road grime and salt. Alloy Shield Protector provides a protective coating stopping any contaminants from attaching to your wheels, keeping them clean for much longer. You wouldn't leave your paintwork unpolished so why leave your wheels unprotected?
Diamond Shield Conserver – 250ml 
Is an advanced NON FOAMING car wash additive that preserves your car's shine following the application of paint protection products – such as ceramic and hydrophobic treatments. Diamond Shield Conserver acts as a rinse aid for use after car shampoo, it both cleans and provides a protective anti-static coating via cutting-edge nano ceramic technology.
Over a period of time leather needs regular care & attention so it does not stiffen & crack. Diamondbrite Leather Feed & Cleaner is a carefully blended emulsion containing natural oils to clean, whilst at the same time protecting & moisturising the leather. It should be applied at regular intervals to maintain the quality of leather. It can also be used on leather sofas.
Find out more about this product on our YouTube channel.
Is an effective screenwash designed to keep your windscreen crystal clear. It contains a highly concentrated formulation with active ingredients for efficient cleaning. It will remove road grime, traffic film and insects for better wiper action and smear free vision. No dilution is required. Just add it to your washer bottle and top up with water. Also available in 5 litre that needs diluting.
Also includes our Microfibre Cloth, De-mister pad and Fabric presentation storage bag
You may also like…
£

9.99 –

£

57.99